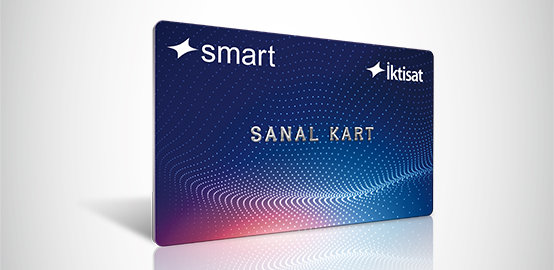 Virtual SmartCard, a More Secure Way to Make Internet Purchases
Smart Virtual Card is an additional card to your main card. Virtual card is physically not published only card number and validity date of the card is created virtually.
You can make your online transactions much more safer with your Smart Virtual Card because the details of your virtual card is different than your SmartCard credit card. When you are making your online shoppings, you can change your virtual card limit according to the the amount you will spend. Then you can cancel the limit until you will need your virtual card again.This way your online shopping will be much more safer.
A virtual credit card, although linked to your physical credit card, is treated as an additional card and the only information relating to this card that you need, to make any purchases, just use your credit card number and expiry date.
Your virtual card limit can be managed by yourself via our Internet Banking. You can increase or decrease your virtual card limit as often as you wish; the maximum limit of this card is the same as your physical credit card. If you are not going to use this card then it is recommended that you keep the limit as zero. Your virtual credit card uses the secure virtual shopping (3D Security) facility.
For additional protection your SmartCard cannot be used on online betting or gambling websites.
To Apply for a Virtual SmartCard
If you have a SmartCard, use our Internet Banking facility to apply for a virtual card. If you want to cancel your virtual card, you can do it easily by using Telephone Banking.
If you do not have a SmartCard yet, then you can apply for one using the application form on our website or our ATM Banking alternatively you can visit your nearest branch.