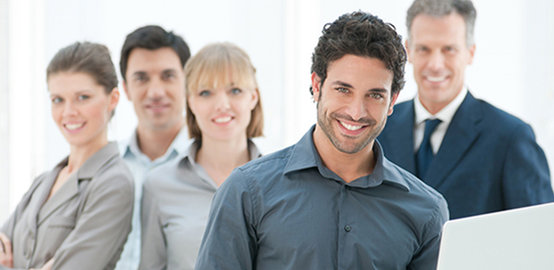 Human Resources
At Iktisatbank we know that our most important asset is our employees. We offer the best working environment to enable them to achieve their potential to the maximum. We understand that different people have different personalities and ideas. Our aim is to unite these different people with different personalities and ideas by a common purpose.
We aim to set an example within our society by observing good working practices and we aim to lead the way in creating awareness of "workplace rights". Our mission is to create a sustainable society in which work is founded on good practices and we encourage similar behaviour from all the companies that work with us or provide us with services.
İktisatbank Career Policy
İktisatbank values its employees and our HR department plays a strategic role in this. The HR department also plays a role in the bank's strategic decisions.
İktisatbank HR Department executes its role and decision making in conjunction with all departments and within the objectives set out by the bank.
The strengths and
performance
of the employees is monitored though a bi-annual performance review carried out in house. From this review all employees are encouraged to make a career plan.
Promotions within İktisatbank are encouraged by the bank and relevant training and skills development is provided.
The HR department assists, motivates and educates its personnel to always ensure they achieve job satisfaction.
A training and orientation course is given to all new starters upon commencement of employment with İktisatbank.
Personal development training is also encouraged and supported by the HR department.
Training and Development is provided both in house and externally, within the North Cyprus and other countries where appropriate. In addition to training courses provided by the Central Bank of the North Cyprus.
Once you join the bank how far you go and what you achieve is up to you.
Working At Kıbrıs Iktisat Bank Ltd.
Dear Young People,

Iktisatbank's leading and pioneering role in the banking sector of the TRNC is due above all to the investment it has made in its human resources. Iktisatbank believes that the foundation of an organisation is its people and that the quality of their development is vital to that organisation's success.

Our main goal in the pursuit of quality is to distinguish ourselves by the level of service we offer our customers. We believe the key to our success is our employees' pursuit of a common goal as a team. The most important thing for us is to do our job as well as we possibly can, with confidence and with respect for each other. We are proud to contribute, through innovation, directly and indirectly, to the training and development of the Turkish Cypriot community.

The fundamental principles on which our human resources are based are the professional and personal development of our employees, continuous training in the development of skills related to the world of finance and the development of our managers' decision-making and leadership capacities.
We constantly review our experience, knowledge, corporate strategy and service platform in accordance with the locations and financial markets that we operate in. Iktisatbank invests significantly in technology and our philosophy is to lead the way in setting quality and service standards within the industry.

We look forward to welcoming new colleagues who would like to share our goals. If you are efficient, results-focused and ready to work as part of a team, apply now for a position with Iktisatbank.

I wish you every success in your future career.

Olgun Önal
General Manager
General Application
We are looking for new team members to work with us at Iktisatbank's financial services group.