SmartCard Credit Card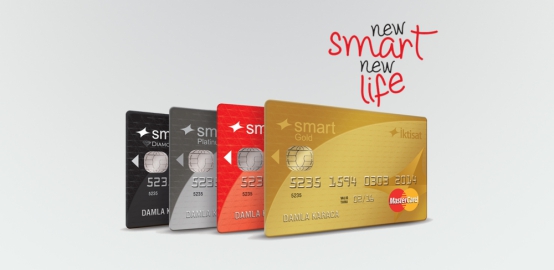 Meet Our New Look SmartCard
Experience the difference of İktisatbank SmartCard anywhere in the world; choose from one off payment or easy instalment payments depending on your needs. You will find the MasterCard / Visa symbol in millions of stores worldwide. MasterCard has the most advantages and is the most used card throughout the world.
 SmartCard General Information
For your own security your credit card is not active upon delivery. 
Once you have created a PIN number your new credit card will be available to use immediately. 
Set your PIN and activate your card using the mobile telephone that is registered with İktisatbank, send an SMS to 4440 (+90 548 888 44 40 from overseas) quoting SIFRE then a blank space then your choice of four digit PIN a blank space and and enter the last 4 digits of your credit card number and the 3 digit number (CVV2) at the back of your SmartCard. EXAMPLE: SIFRE 1234 3456789    *SIFRE means PIN in Turkish.
If your mobile number is not up to date on our system please visit your nearest branch.
After entering the Internet Banking site, go to the Security Menu and select Passwords – Bank/ATM Card to change your PIN. You can do the same thing by calling our Telephone Banking or ATM Banking.
After you have set the PIN or the main card, repeat the same process for any additional cards. Remember to set the PIN of your main card first, and remember that once you do, all your previous additional cards will become inoperative and the newly issued supplementary cards would need to be activated.
When setting your PIN do not use something that is easy to recognise such as your date of birth. You must ensure both your card and PIN are kept secure at all times, do not divulge your details to any 3rd party at anytime.
For your own benefit, for any purchases where a signature is not possible your card has automatically been activated with mail order facility and e-commercial allowing you to make purchases on the internet. The limit for internet or virtual purchases is the same as your credit card purchase limit. Upon activating your credit card this is automatically activated. If you wish to cancel this facility on your credit card please call our Telephone Banking on 444 4 444. It is recommended you keep the available limit for virtual purchases to a minimum, to change your existing limit please visit our Internet Banking and amend the information under the Virtual Card details. 
In the event that your card is lost or stolen or your PIN number compromised, you should inform us immediately, by calling our Telephone Banking on 444 4 444.
If there is a change to your home or work address you should notify the bank within 10 days of any such changes.
All purchases made whether abroad or within the TRNC will appear on your statement in TL. All foreign currency transactions will be calculated at the relevant rate of exchange.
Payment Information
Pay your credit card bill in cash at any of our İktisatbank branches or ATM Banking, transfer funds from your current account using our Internet Banking facility or our ATM Banking's, setup a monthly standing order to pay the bill monthly from your current account. Alternatively you can make an Electronic Fund Transfer from another bank. 
Your Credit Card statement can be sent via post or if you provide us with an email address we can send you an electronic copy. We will also inform you of your balance via SMS. 
The minimum payment due on your statement is 20% of the total outstanding balance. You will need to make a payment of the minimum amount by the last payment date.  For your convenience, you may place a direct debit instruction on your current account. You can choose between minimum or full payment options when placing a direct debit instruction. 
  If you do not clear the balance on your credit card by the last payment date then the remaining balance will accrue interest.
SmartCard Credit Card