Security Restriction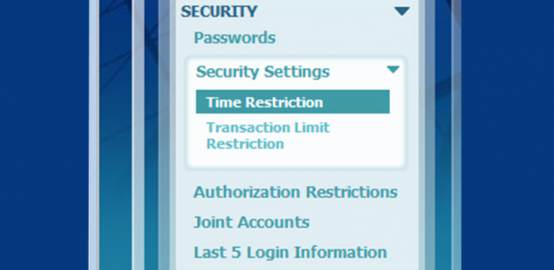 Special Security Restriction From Internet Banking
By using your Internet Banking you can put personal security settings. You can control your internet banking by defining time, transaction and IP restriction.

Transaction restriction; You can restrict money transfer transactions limit and then ıf you try to make a transaction more than the limit the system does not allow you.

Time restriction; You can set time restriction depending on your transaction times and days, and you wont be able to make transactions at the restricted times.

IP restriction;  If you are only using your internet banking on a single device you can set IP restriction and with the IP restriction you can not login to your Internet Banking from any other device.

Some of the unique services Internet Banking offers you;
Saved and Last 20 Transactions: You can save your transactions easily and see your last transactions.
Applications: You can apply easily and fast with the application form under application menu
SMS to Receiver: The system gives information to the receiver when you make fund transfers like EFT, money order etc.
Scheduled Transactions: You can give instruction for your regular payments and we pay your payments on the date.
Loans: If you have taken a loan from İktisatbank you can see your loan information from the new loans menu.
Assests: You can see all your assests you have at İktisatbank.
Last 5 Login: You can check your last 5 logins date and place
Security Restriction: You can make your internet banking much more safe with the security restrictions you determine.
To discover Internet Banking's fast and non stop services and to experience wide range of transaction set you can login now.

Also all banking transactions are free!