Internet Banking Password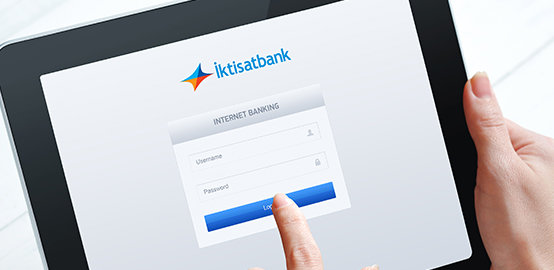 From Now On, Obtaining a New Password is Very Easy
You can login to our Internet Banking by registering your SmartCard or Smart Bank card. Once you are registered to use our Internet Banking, you can carryout all transactions offered by İktisatbank, apart from withdrawing cash, directly in the comfort of your home, without having to wait in line.
Forgotten Your Password?
In case you forget your username or e-password that you use to log in to our Internet Banking, you can login by using the information on your Smart Debit or SmartCard.

You can access to our Internet Banking by clicking on the ''Internet Banking Login'' link on the top-right corner of our website and selecting Login With Card. Please enter card number, card PIN and your date of birth in the fields provided and click continue.

After having provided this information correctly and completely, you will receive a 6 digit security code, via SMS, to your mobile number that is registered in our system. Enter this code into the field provided and you will access your account information.

After logging in by using your card information, you can access the Security menu to display your username and request a new password that will be sent to your mobile number registered into our system via SMS.

If you do not have a Credit Card you can still obtain a new e-password or update your password by calling our Telephone Banking on +90(392)444-4444.