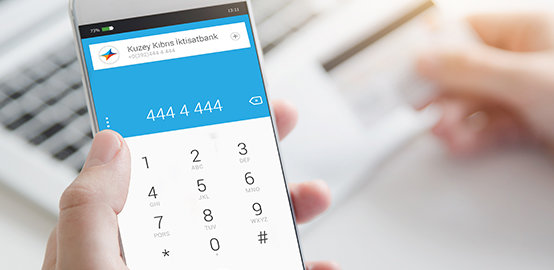 The very first North Cyprus Mobile Banking Application İktisatMobile
İktisatbank offers you a new banking experience option with its İktisatMobile application. You can access our banking products and services easily and perform your banking transactions in a fast effective manner wherever you are using İktisatbank's Mobile Banking application.

Even if you are not an İktisatbank customer yet you can still use İktisatMobile application.

You can obtain information about İktisatbank products and services, the exchange rates, the interest rates, find your nearest Branch & ATM and get the relevant directions, calculate loan, check the deposit rates with many more other options.

Downloading İktisatMobile application is free of charge. Simply login with your Internet Banking user information, alternatively you can use the card login feature and login with your SmartCard credit or debit card information.

You will set yourself a DotLock code after the first login with your username and e-password. You can access your İktisatMobile Application with the specific code created by yourself.

With the main screen showing your assets and easy financial transaction menus you can monitor your accounts, card activities, make online transfers or instantly make investment transactions.

The newest member of the Digital Banking family İktisatMobile Application is now at your service.