Corporate Internet Branch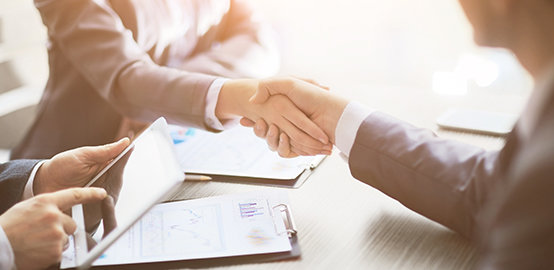 Use Internet Banking To Manage Your Business Accounts Easily
İktisatbank continuous to make customers life easier day after day. Now our corporate customers can benefit from Internet Banking's exclusive transaction set and signing authority control service.
You can save time when managing your corporate accounts via Internet Banking. Also your accounts safety can be kept in the forefront with our advanced authorization-approval mechanism.
What is Internet Banking Authorization - Approval Mechanism
?
A separate username and e-password will be given to each person who can access the internet banking within your company. Each person logins to Internet Banking with the one time security code send to their registered mobile phone number and your transaction security will be ensured with separate authority.
The employees will be login to Internet Banking with individual usernames and e-passwords and each user will make transactions depending on authority the company determined. Separation of authority can be made for every financial transaction,  authority options are TRANSACTION AUTHORITY, APPROVAL AUTHORITY or TRANSACTION + APPROVAL AUTHORITY.
If the user only has TRANSACTION authority and does not have APPROVAL authority, can make the financial transaction but an user with APPROVAL authority has to login to Internet Banking and approve the transaction to be made. This transaction can not be carried out without approval of authorized person.
Also maximum daily transaction approval limit can be set for each user.
If desired, you can set A, B and C signature authority degrees to the users with APPROVAL authority. For example you can set two A degree and one B degree user to APPROVAL for transfer transaction. You can set upto 6 stage of approval for each financial transaction.
You can restrict the desired user to view only certain account. These restrictions can be decomposed as monitoring restriction or transaction restriction.
With outstanding security infrastructure of Internet Banking, can monitor authorized users access to accounts in which time intervals.
Your account will be 100% under control of you because you determine which user does the transaction and which user gives approval in every transaction made.
With the Internet Banking specifically designed for our corporate and commercial customers with transfer, foreign exchange buying – selling and account transactions you can make cheque/note monitoring, Pos transactions and external trade transaction withing Authorization-Approval mechanism. For all the transactions can be done via Internet Banking.
İktisatbank Banking Channels continuous to improve to provide you with better services. To start using our corporate and commercial Internet Banking only thing you have to do is visit our nearest branch and apply.