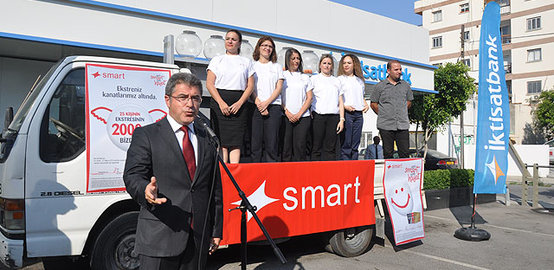 SMARTCARD "WE'LL TAKE CARE OF YOUR STATEMENT" CAMPAIGN WINNERS DRAWN IN FRONT OF THE NOTARY PUBLIC... 
The first local credit card with the distinction of being SmartCard was re-launched with a renewed image and improved features together with the first campaign of the year "We'll take care of your statement", in February. The winners of the campaign were drawn on the 10th of June at the head office.
Before the first Notary Public Nurten Halimoğlu at 17:00, 25 lucky SmartCard customers were drawn at random and won the opportunity of having up to 2000 TL paid off a statement for expenditure made between February and March with their new SmartCard. The event was co-ordinated with the Sports Administration and the State Lottery Service Centre, the event was attended by members of the Board of Directors and a number of invited employees from Iktisatbank.
Prior to the draw taking place Iktisatbank General Manager spoke; He underlined the fact that change and renewal is in the genes of Iktisatbank and that they will continue to invest and to raise the bar to create better service and value added products to its customers. Approximately 20 years ago when SmartCard started its journey, it became the first internationally recognised credit card available in the TRNC, and won acclaim by the people, SmartCard soon became the most widely used and wanted credit card on the island stated the General Manager. He explained that customers waited patiently for the re-emergence of the new improved SmartCard and as a result of arduous work expanding the range of credit card products and following the necessary improvements to technology the new SmartCard was brought to life in February and customers have adapted very quickly to the new improved SmartCard.
During his speech, he stated that this was another step in providing a better banking service to the clients of the TRNC, he went on to say he was proud of the change and renewal of Iktisatbank's vision in 2013 to adopt a banking system used by 16 banks internationally to enable the provision of a customer focused service within the banking sector of the TRNC. The procedure to be followed by the winners of the campaign will be announced on our website iktisatbank.com following the receipt of the official document from the Notary Public explained the General Manager, there will be a number of surprises and further novelties available on SmartCard in the coming days he also stated.
The winners of the draw, listed below, will be entitled to up to 2,000 TL refund on the balance of their last SmartCard statement.
SmartCard "We'll Take Care of Your Stament" Campaign Winners
Ahmet Gökhan
Mustafa Çelik
Aytaç Uğur Adan
Mustafa Siyami Karaman
Behiye Erses
Nevin Boran
Betül Ciyaslıoğlu
Özlem Bekiroğlu
Bilinç Alyanak
Pelin Erbil
Ceren Özbil
Sumaya Klohr
Emine Doğru
Şerife Farukcan
Fikret Kasap
Yaşar Kağansoy
Hanım Ağa
Yeliz Safkara
Havva İspiroğlu
Zalihe Mavigözlü
Hüsnü Gürboyoğlu
Mehmet Başman
İslam Dursun
Mustafa Adem
Kutay Bingöl