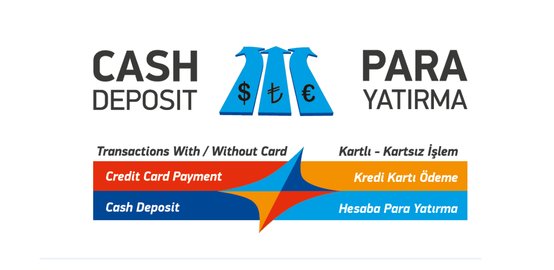 SMART ATM BANKING LEADING THE WAY WITH CASH DEPOSIT FEATURED ATM...
Smart ATM Banking developed to perform all your banking transactions, continues to increase its service points that have the cash depositing feature.
Thanks to our ATMS being spread to every corner of Cyprus you can carry out your transactions 24 hours a day 7 days a week. Our Smart ATMs will make your life easier with the cash depositing feature. With extensive renovation and development efforts completed recently,
90% of our ATM locations
have started to give cash depositing service.
With Smart ATM Banking without waiting in line, you can deposit cash into your own or any other account, pay your bills, repay your loan, pay yours or others SmartCard Credit Card bill.
In addition to all of these features, you can deposit
Dollar and Euro as well as TL
to your account using our Smart ATM Banking.
You can also make your transactions without a card with our cash deposit featured Smart ATMs.
The Smart ATMs to provide this feature;
| | | |
| --- | --- | --- |
| Alsancak Branch ATM | Girne Branch ATM (new) | Merkez Branch ATM |
| Boğaz Branch ATM | Güzelyurt Branch ATM | Osmanpaşa Branch ATM |
| DAU Branch ATM | Karakum Branch ATM | Sarayönü Branch ATM |
| Ercan Airport ATM | Karaoğlanoğlu Branch ATM | Yenikent Branch ATM |
| Erülkü ATM (new) | Kaymaklı Branch ATM | Taşkınköy Branch ATM (new) |
| Gemikonağı Branch ATM | Mağusa Branch ATM (new) |   |
| Kyrenia 20 Temmuz ATM (new) | MeritPark ATM (new) |   |