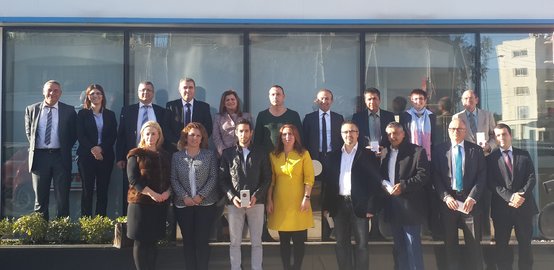 IKTISATBANK SMART INTERNET BANKING iPHONE 6 and GALAXY NOTE 4 PRIZES WERE HANDED OVER
Campaign winners of the iPhone 6 and Galaxy Note 4 campaign were invited to an event at Iktisatbank to collect their prizes.
Iktisatbank, ran a prize draw for users of the Smart Internet Banking the prizes, iPhone 6 and Galaxy Note 4's were handed over the campaign winners on the 26th of January at Head Office.

The Sales and Marketing Manager Ali Ihsan Bayar made a short speech at the prize giving regarding how the bank is constantly monitoring the progress in technology and continually investing in technology and implementing solutions to improve its customer's lifestyle and banking experience. Mr Bayar went on to say that at the present time we are proud to provide the fastest internet banking facility within the TRNC and we thank all of our customers who use our Smart Internet Banking.

Without visiting the branch, using Smart Internet Banking you can carry out domestic and international transfers, buy and sell currency, buy and sell Gold, investment and similar transactions 24 hours a day 7 days a week, wherever you are in the world. He also announced that the bank will be running similar campaigns again in the future, so customers should take advantage of the speed and the benefits of using the Smart Internet Banking to be in with a chance of winning one of the prizes.