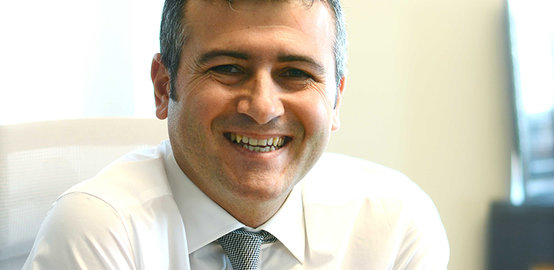 IKTISATBANK - THE ONLY TRNC BANK TO PARTICIPATE IN THE 21st HUMAN RESOURCES SUMMIT...
The 21st Human Resources summit was recently held in Istanbul, this summit has been organised every year since 1995 by MCT Consultancy in Turkey with participants from the most prolific organisations worldwide. Participating organisations include Microsoft, Netaş, Phillips, Mercedes, Turkish Banking Union, Turkish Standards Institute and similar leading worldwide corporations, from the TRNC the only participating organisation was
Iktisatbank.
This year the theme was "Rational Simplicity" a concept that aims to bring a new perspective to all professionals employed within Human Resources through participation in special sessions, group activities, seminars, amongst other varying activities. MCT Consultancy General Manager Didem Gürcüoğlu Tekay and MCT Consultancy Chairman of the Board Alper Utku said that the people listed on "Forty over 40" list containing details of the people worldwide who should be monitored.
Amongst the names mentioned at the summit one of whom is Alexander Mann, the United Kingdom's most successful entrepreneur and also James Caan shared their experiences with participant of the summit. Speakers at the summit included; Steven D Souza from IE Business School, Professor of neuroscience and leader Tara Swart, Ashridge Business School and Metanoia Institute Leader and Organisational Improvement lecturer Steve Chapman, Oxford University Leadership Lecturer Robert Poynton and 6th listed name on the Gamifications points table An Coppens.
Iktisatbank's General Manager Olgun Önal
said of the participation in the
Human Resources
Summit;
Iktisatbank
being the innovator for the banking industry within the TRNC with the introduction of a number of firsts for the industry bringing Iktisatbank to where it is today and that Human Resources have played a major role in achieving this. Iktisatbank's senior management has a basic principle of "people", and believes that the quality of its employees is the key to success he added, the principle of continuous training and personal development, monitoring innovations, and whether directly or indirectly they are delighted and proud to be supporting the Turkish Cypriot community. 
General Manager Önal completed his statement by saying that training for improvement in the quality of service provided to its customers would continue and that this year the "Simplicity" concept is one that has been chosen by the organisation to adopt so he was proud that the organisers of the Human Resources summit with their international experience chose the same theme for this year's summit.