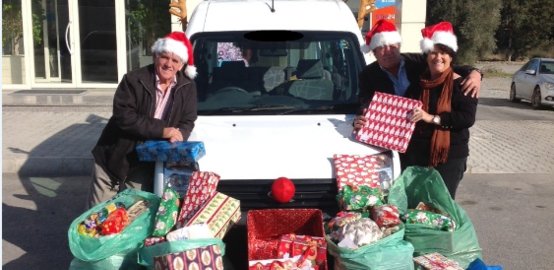 IKTISATBANK CHRISTMAS BOX APPEAL COLLECTS A RECORD 221 GIFTS FOR THE CHILDREN IN NEED FOUNDATION...
This year, with your help, Iktisatbank supported the Children in Need Foundation Christmas Campaign.  Each year gifts that are donated to the charity are distributed to the underprivileged children of Northern Cyprus at Christmas time.
Iktisatbank asked members of the public who wished to, to provide a small gift donation to this very worthwhile cause, gift drop off locations were Iktisatbank Karaoğlanoğlu, Karakum, Osmanpaşa, Famagusta and Güzelyurt branches, the last day for collection was Monday 16th of December and İktisatbank are very pleased to announce a total of 221 gifts were donated to this very worthwhile charity making Christmas this year very special for the children in their care. It is important to remember that a small toy can make a big difference to a child's life.
The Charity has worked hard over the years supplying computers, helped with refurbishing classrooms etc.  and  have even provided a bus to take children out on day trips to the beach and the local countryside, this interaction has made a major difference to  these children's lives and one child who had not spoken for 6 months has started to speak again through the help and support that has been provided. 
Ahmet M. Karavelioğlu, General Manager of Iktisatbank said: "I am delighted that İktisatbank were able to help this very worthy charity, helping make this special time of year even more special for those children in our community who have a variety of special needs. The Children in Need Foundation does a fantastic job in helping these children and it is great that we can assist in such a way. We are very pleased that İktisatbank has been able to assist in making this Christmas a happy one for the children of Northern Cyprus and thank all those people of our community for their generosity".