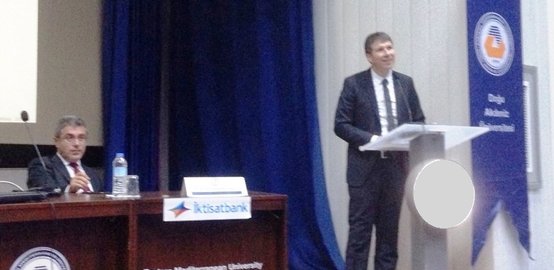 BIG INTEREST GENERATED AT THE EASTERN MEDITERRANEAN UNIVERSITY CAREER DAYS...
Iktisatbank, together with Eastern Mediterranean University Graduate Relations and Career Research Directorate took part in the "EMU International Careers Week" organised by EMU academics.
During the Careers Week Iktisatbank General Manager Dr. Ahmet Karavelioğlu and Iktisatbank Treasury Department Manager Emre Değirmencioğlu were invited to speak to young graduates who may be planning a career in the banking sector about their personal experiences, opportunities and challenges within the sector and to assist them with their personal development.
Students from EMU Economic and Administrative Sciences faculty and affiliated subjects showed great interest in the first speech and presentation by Iktisatbank Treasury Department Manager Emre Değirmencioğlu on the subject of "A strategic overview of the Financial Markets" the presentation in English showed at a glance the developments in the global markets and a brief evaluation the recent loss in value of the TL. During the presentation Değirmencioğlu; demonstrated a proactive method of overlapping the theory learned and the developments of the financial markets in real life. Following the presentation, Değirmencioğlu together with Iktisatbank General Manager Dr. Ahmet Melih Karavelioğlu responded to intense questioning from the students.
General Manager Karavelioğlu, when explaining about the number of firsts introduced by Iktisatbank into the banking sector underlined the fact that the basis for Iktisatbank success is the amount of investment in Human Resources. Karavelioğlu went on to say that they are always striving to make a difference in the quality of service and products provided in comparison to its competitors, he stated that working closely with management and with a team approach, provided the correct motivation to achieve a common goal.
Karavelioğlu said that the employees' personal and professional development is a priority within Iktisatbank, with principle of continuous training its employees in developing skills related to the world of finance, also in varying situations bank supervisors are developing their decision making and leadership skills he stated. He continued by saying that where we are located geographically reduces the predictability in the financial markets and therefore it is advisable to constantly keep an eye on the corporate strategies and service levels as they  are continuously changing and renewing. He added that the door is always open to students of EMU who wish to share in the overall aim of Iktisatbank.
At the end of the conference a large number of job applications were received at the Iktisatbank stand that was set up at 3rd International Careers Opportunities fair held at the Lala Mustafa Paşa Sports Centre.
To see other news please

click here.