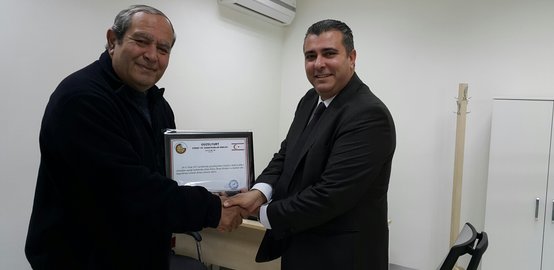 GÜZELYURT TRADE AND CRAFTS UNION PAID A VISIT TO THANK IKTISATBANK...
Representatives from the Güzelyurt Trade and Crafts Union paid a visit to the Güzelyurt branch of Iktisatbank to thank them for the support they have given to local trade and craftsmen in the area.
Güzelyurt Trade and Crafts Union president Mr Ulus Ese, Member of the Board of Directors Mr Mustafa Cemil Merihkan and a local tradesman Mr Hasan Cakartaş, personally visit the Güzelyurt branch and presented the Branch Manager Mr Gürhan Kandemir with a plaque and a bouquet of flowers. During the visit the President of the Union Ese, expressed his gratitude to the cooperation and dialogue shown by Iktisatbank with the local tradesmen in the Güzelyurt district. He underlined the fact that despite the uncertainties and economic challenges faced by the local tradesmen Iktisatbank was always nearby to assist.
Upon hearing the satisfaction and thanks expressed Iktisatbank Branch Manager Gürhan Kandemir said that the confidence in Iktisatbank expressed by the local tradesman from the area was very significant.  He went on to say that the tradesmen, craftsmen, Small and Medium Businesses in the area continued to bring added value to the local economy and that Iktisatbank would continue to assist them as much as possible, he thanked the Union members for their visit.
To see other news please

click here.