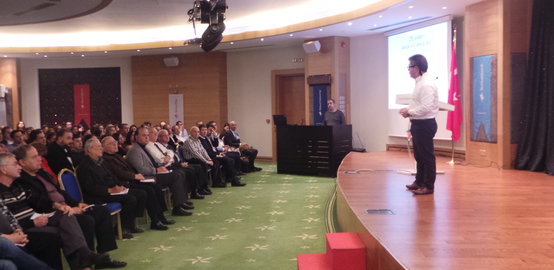 IKTISAT FINANCIAL SERVICES GROUP READY FOR TAKE OFF...
Iktisat Financial Services Group organized a performance review seminar, on Saturday, 10th January 2015 at the Golden Tulip Hotel, in Nicosia, with the participation of Iktisatbank, Iktisat Insurance and Iktisat Factoring (Turkey).  During the seminar financial climates of TRNC, Turkey and world markets were also reviewed.  The seminar which coincided with the 25th year celebration of Iktisatbank quickly turned into a 'tour de force' with full participation of Iktisat Sigorta and Iktisat Faktoring (Turkey), now an influential financial power in turkey.
The opening address by Mete Ozmerter, Chairman of Iktisat Financial Services Group, was followed   presentations by the General Managers and department heads of the different companies within the group.  The presentations included reviews of 2014, targets for 2015 in light of global money and exchange rate policies, as well as medium and long term projections.
Surprise participants There was a pleasant surprise at the seminar.  The  then Minister of Economy and Finance, Nazif Borman as well as Minister of Industry and Commerce, Atay Ahmed Raşit also made appearances.  The ministers were present at the opening ceremony when Iktisatbank first opened its doors 25 years. During his speech Borman expressed his admiration for the continuous development of Iktisatbank and warmly thanked Iktisat Financial Services Group Chairman Mete Ozmerter and his team for their achievement in joining the rank of the financially largest banks in the TRNC. The then Minister of Industry and Trade Minister Raşit stated that although Turkish Cypriots have been struggling for their existence, they are yet to reach the status they truly deserve.. He commented that Iktisatbank still managed to successfully adapt and integrate to the rest of the world, becoming the pride of Turkish Cypriots. Raşit also thanked all who contributed to this impressive development. There was an emotional moment when images of the original Opening Ceremony Memoir from 25 years ago were projected during these speeches.  The pride was readily visible in the eyes of employees who were openly moved.
Mete Ozmerter: Ready for take off Iktisat Financial Services Group Chairman Mete Ozmerter heartedly thanked everyone for their contribution and stated that the institution has been on the go for the last 25 years. Ozmerter pointed that Iktisat Factoring is now a reality and no longer a vision.  Iktisat Faktoring, he continued, is now considered as a noticeable financial strength that sets targets in Turkey, growing day by day in such large metropolitan areas as Istanbul, Izmir, Adana, Ankara, Istanbul and  Antalya. Ozmerter also expressed that the biggest asset Iktisatbank has is its' customers who have with great consistency and persistence supported the Bank for the last quarter of a century. The Chairman highlighted that  in order to prove worthy of their trust, Iktisatbank will work even harder to provide the yet higher quality services in a more efficient manner.
Dr. Ahmet Melih Karavelioğlu: The pioneering bank Iktisatbank General Manager Dr. Ahmet Melih Karavelioğlu stated that the achievements of Iktisatbank gives a sense of pride shared by all.  He added that Iktisatbank has undeniably been a pioneer within the TRNC banking sector. "We should be proud of our achievements yet we need to constantly remind ourselves that the work is never finished, we should always aim higher and aim better. We shall continue to best serve Turkish Cypriots' financial needs both here worldwide", Dr. Karavelioğlu stressed.