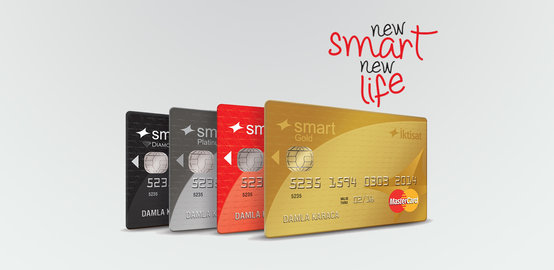 2000 TL OF YOUR STATEMENT PAID BY US...
Renew yourself and your SmartCard. Get your PIN and use your SmartCard immediately Take advantage of additional points and added payment options throughout the year. No Card Fee for 12 months
SmartCard has been renewed and shopping has been cheered. Make purchases with your new SmartCard up to the 31st of May and we will pay up to 2,000 TL of your statement. 25 lucky SmartCard holders, who have used their SmartCard for shopping, will be drawn at random in front of the notary public. For the lucky winners up to 2000TL of their statement will be paid by the bank. To be part of this campaign all you need to do is set up your PIN and use your SmartCard for all purchases up to the 31st of May. To set up your PIN, send an SMS to 4440, quoting SIFRE then a blank space then your choice of four digit PIN, a blank space and enter the last 4 digits of your credit card number and the 3 digit number (CVV2). (Example SIFRE 1234 1234567). Plus; you can set up your PIN via the internet banking facility on iktisatbank.com or by calling the call centre on 444 4 444. To be part of this campaign your SmartCard must not be cancelled up to 1st of June. If a SmartCard is drawn that has been cancelled then it will be null and void. Employees and immediate relations of the employees of Iktisat Financial Services Group are not permitted to take part in the campaign.
'Shop til you drop' with your new SmartCard and good luck.
To get to know our new SmartCard better please visit our SmartCard page for all the advantages of our brand new SmartCard together with a range of frequently asked questions, in addition obtain details about our SmartATM24 card as well as our Virtual SmartCard.