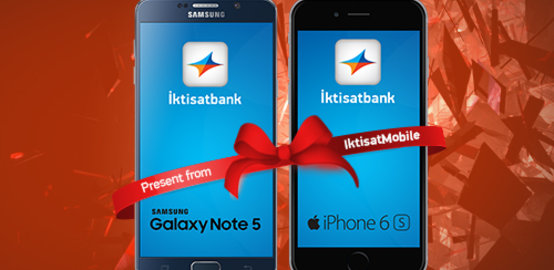 YOU WILL ALWAYS WIN WHEN YOU USE THE NEW GENERATION IKTISATMOBILE BANKING APPLICATION…
 100% real mobile application iktisatMobile that provides you with a new banking experience in Northern Cyprus is giving away Apple iPhone 6S or Samsung Galaxy Note5 to its lucky users.


 You can benefit from iktisatMobile's modern security infrastructure when using its rich transaction list; high deposit interest rates, fast money transfers, advantageous exchange rates when buying and selling currency and gold. When using the application you also have the chance to win an Apple iPhone 6 or Samsung Galaxy Note 5!

Use Northern Cyprus's new generation Mobile Banking Application IktisatMobile to have the chance of winning one of the 3 Apple iPhone 6s or Samsung Galaxy Note5. Iktisatbanks Digital Banking Channels continue to provide uninterrupted service as well as being the porvider of firsts within the sector.

IktisatMobile  campaign details:
The campaign is valid from 1st  of February until 30th of June 2016.
Between the campaign dates login to İktisat Mobile Banking application using your username and password.  Each customer will be given one raffle entry per month.
During the campaign, each participant is limited to a total of 5 raffle entries.
The campaign winners will be presented with one of 6 smart phones, 3 Apple iPhone 6s and 3 Samsung Galaxy Note 5.
Lucky İktisatMobile users will be drawn on the 15th of July 2016 in front of the notary public.
The results of the campaign will be published on our web site www.iktisatbank.com.
Customers cannot participate in the campaign if they are employed by Iktisat Financial Service Group or are a first-degree relative to an employee.
To start using our Iktisat Mobile Banking and to be one of the lucky customers; you can call our Iktisatbank Telephone Banking 444 4 444, you can visit your nearest branch or to register please click here.