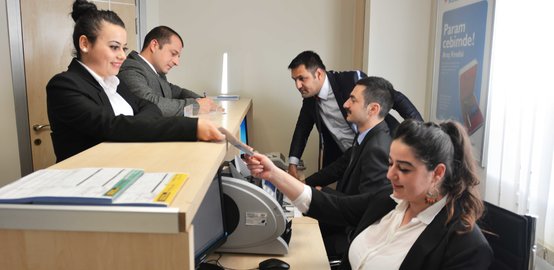 THE FIRST STUDENTS GRADUATED FROM IKTISAT ACADEMY AND TRAINING FACILITY...
Iktisatbank gives as much importance to training its staff as it does to its valued customers, all new employees are now trained at the İktisat Academy and training facility, before being sent to the branches to commence employment. All students undergo intensive theory and practical training of all aspects of banking, at the new 'dummy' branch set up in Nicosia. The first of these new employees to undergo this style of training have now graduated and will be starting in their new roles in the near future.
A total of 5 stages of theory and practical training were given; central operations, operational risks, communication, fraudulent actions as well as customer service principals. The İktisat Academy students who passed the theory stage of the training were then sent to the 'dummy' branch where a number of role play scenarios were acted out, in addition to this, using the test banking system, real transactions with and without physical cash were carried out. This is yet another first for the banking industry in Northern Cyprus.
After the graduation of the new employees into the İktisatbank family, İktisatbank General Manager Mr Ahmet Melih Karavelioğlu said that he believes this method of training is the future to ensure that all employees of the bank, from the lowest level to the highest administrator level know and learn the basic principles of our bank's corporate culture, strategy and responsibilities. He underlined that with the introduction of İktisat Academy it means that all employees have the opportunity to improve themselves and rapidly move up the employment ladder, this has been greatly received by all new and existing employees of the İktisatbank family.
The General Manager Karavelioğlu went on to underline that the training emphasized the importance of the understanding of the banks products, the constant changing conditions, the relevant infrastructure and technology available within the bank's guidelines and principles as well as ensuring that the standards of the bank are implemented across all departments to ensure the customer satisfaction is constantly maintained and that these new employees had achieved success in all aspects.
He finished by saying that "Employees", "Service", "After care", "Products" and "Ensuring Quality Standards" is always at the forefront of our minds and that being able to provide this type of continuous education to the Cypriot Community was something to be proud of.