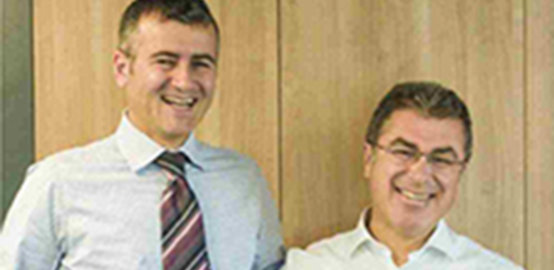 FLAG CHANGE AT IKTISATBANK
Last week Iktisatbank financial services group organized their 2015 first quarter performance evaluation meeting which is traditionally done twice a year, at the Golden Tulip Hotel. With approximately 300 staff attending, expectations about world monetary and exchange rate policies were discussed, medium and long-term projections were made.
Iktisatbank financial services group chairman Mr. Özmerter spoke about innovations and the firsts that Iktisatbank has achieved and brought to the banking sector in Northern Cyprus. He also gave examples from his professional life and said that every staff and supervisor  that joins our bank, carries it to a higher level from where they take their position from.  Mr Özmerter thanked everyone who made Iktisatbank the strongest and international standard serving bank in Northern Cyprus.  At the end of his speech he announced that the general manager of Iktisatbank Mr. Karavelioğlu will be handing over his position to the current Marketing Assistant Manager of Iktisatbank Mr. Önal as of September 2015.
Mr Özmerter said that in the past three years Mr. Karavelioğlu has performed well and built the technological infastructure bench of the bank and also made Iktisatbank gain profit even when turmoil and crisis was happening in the worlds money market. The TL value loss and the reduction of the American Dolar liquidity given to markets from The American Central Bank, The Gezi park events that happened in Turkey, the aggressive interest rate increase by Turkeys Central Bank and the effect of the elections in Turkey which resulted in the exhange rates increase were some of the events affecting the economy.  Mr. Karavelioğlu has done well and kept the Bank growing even in the difficult situations mentioned above. Mr. Özmerter thanked him on behalf of his staff.
After Mr. Özmerter's speech, Mr. Karavelioğlu took to the stage to make his speech with all the staff applauding him. He made a brief evaluation on the last three years of his time with the role of being general manager at Iktisatbank. He said that it was a pleasure to work in a bank that had an active growth of 280 million TL to 1.2 billion TL. He also stated the change of the system was a hard period but has taken the bank to better places. He added that It does not matter which position you hold at the company you work in, the secret of success is to work like the owner of the company. He said that during his career he has always been honest, open to new ideas, been self confident, dealt with customers, only gave promises that he could do and never gave up from these principles. He said that if you turn these principles into passion and belief within your work, your career plan will create itself in time.
He also gave a message to staff and told them to do their work well, to do it with passion, be friendly, be stable and always love the work you do. He expressed his joy and that this change is needed  to carry the bank forward with a different vision. In the last part of his speech he told his staff that they should continue to work with corporate culture, always work with team spirit, target forward,  to work with perseverance and discipline and he wished Mr. Önal good luck in his new position as the General manager as of the bank at the end of the September.
To see other news please

click here.