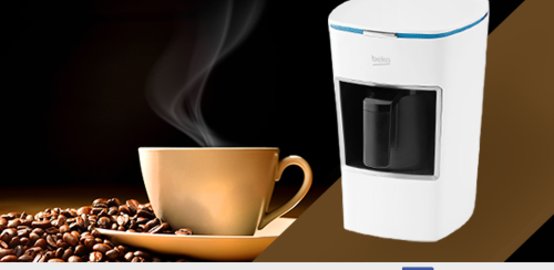 LIKE OUR FACEBOOK PAGE, SHARE THE POST, HAVE THE CHANCE OF WINNING A COFFEE MACHINE...
Our interactive communication channel Facebook, has been informed our followers about the banks products and services since the day it started to operate actively. Now has started a sharing campaign. The only thing you need to do to join our campaign, which is prepared using the sharing method is to share the post we designed speacial for the campaign.
In the coming period our corporate Facebook page will be making similar campaigns and will continue to offer advantages of our banks products. Continue to follow our page to live a special social media experience.
Our Facebook campaign Conditions;
The participants are expected to like Iktisatbank facebook page and share the posts.
The winners will be drawn between who shared the post. The draw will be held in the presence of a notary.
The campaign will start 10.06.2016 00:00 and will be ending at 07.06.2016 23:59.
The winners will be announced at 10.06.2016.
Only real people who follows Iktisatbank Facebook page will be attended to the campaign. Everyone who lives in Norhern Cyprus and is ower 18 years old can attend the campaign.
The participation is limited and all the attendents can only participation once. Only one person will be winning a present at the end of the campaign.
The coffee machine shown in the picture is a demo, real present may differ in some minor properties.
Campaign Participation is free.
The same person -can't attent the campaign with different profiles and can't win the price. In such cases, the participant will be disqualified without any warning.
The price won by the campaign can't be given to ant other person or institution, can't be sold, changed and can't be asked to pay as cash.
This campaign has nothing to do with the Facebook site. Facebook site can't be held responsible for any problems.
All campaign rights belong to Kıbrıs Iktisat Bank Ltd. Iktisatbank reserves the right to change the rules of the campaign.
All the attendents will accept all the changes publish on our website by participating to the campaign. All the changes come into force as soon as it is declared in the web page. Please follow the campaign conditions on our Iktisatbank Facebook page.
Iktisatbank Facebook campaign is suitable of public morality and is not disturbing the public order.
Iktisat Financial Services employees and their relatives cannot benefit from the campaign.
Kıbrıs Iktisatbank Ltd. is not responsible of any problems occurred technically.
In any case of conflict, Turkish Republic of Northern Cyprus Courts that are placed in Nicosia, will be in charge.
The participants accept and understand the campaign participation conditions.
To see other campaigns please

click here.