SmartPoint All Over the World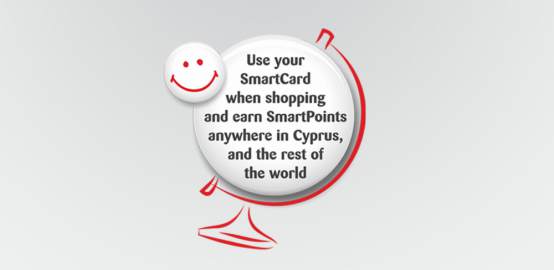 Your Very Own SmartCard has a Very Special Point to Make
You can now collect SmartPoints anywhere you shop. Really. Anywhere.
Use your SmartCard when shopping and earn SmartPoints anywhere in Cyprus, and the rest of the world.

Enjoy a complete world of SmartPoints whenever and wherever you shop with your SmartCard.

Your very own SmartCard now has a brand new trick up its sleeve.You now earn SmartPoints anywhere you shop in Cyprus, or around the world, regardless of amount. You also earn SmartPoints with deferred payment transactions.

Enjoy Lots of SmartPoints Anytime,
Anywhere use them anytime, anyway you please

You earn points whether you choose a single payment option, or a deferred instalment option, and you earn points regardless of how much you spend. You can use the points you earned at any retailer with a SmartPOS, or if you like, you can let us multiply your points by 3 towards flight tickets.