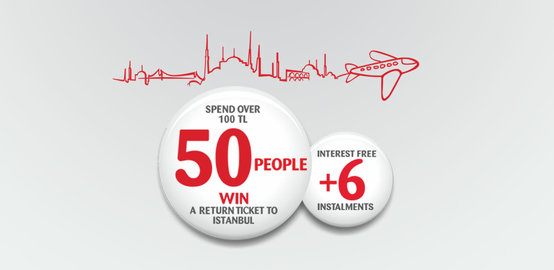 "SmartCard's last call for Istanbul" SmartCard New Year campaign winners selected.
The SmartCard new year campaign "SmartCard's last call for Istanbul" winners were drawn on the 7th of January at head office.
The winners of the draw were selected at random by the Notary Public Nurten Halimoğlu, 50 lucky SmartCard customers won free return tickets to Istanbul.
The winners of the tickets must use them by the 31st of March 2015.
To use the tickets all our customers need to do is call our Smart Telephone Banking on 444 4 444.
Winners of the return tickets can be found below:
SmartCard's Last Call for Istanbul Campaign Winners
Ahmet Gürel
Dilek Çetereisi
İsmail Erdem Yorgunoğlu
Rasıh Kurudereli
Ahmet Özmert
Emine Tungay
Kemal Sözüöz
Rüstem Önkal
Ahmet Yatman
Engin Erçelik
Meliz Birinci
Salih Akcatepe
Ali Rıza Görgün
Erdoğan Alas
Meryem Arif
Seda Şener
Aydan Özbeşer
Güvenç Erseven
Meşrübe Şahin
Sevilay Akagün
Ayla Özbalıkçıoğlu
Güzide Tokcan
Mete Hasan Küçük
Sevim Özgül
Ayşe Okcan
Hale Sağır
Mustafa Aktan
Sevinç Çelik
Ayşen Köseoğlu
Hanım Ağa
Mustafa Altan
Şaban Kalkan
Aytekin Yağız
İbrahim Akkorlu
Naime Angay
Şaziye Altuner
Aziz Dayı
İbrahim Karacan
Özdemir Tokel
Şifa Önol
Berin Avunduk
İlknur Soysal
Pembe Zurnacı
Ünsev Ergüler
Bertan Erkbür
İrfan Tunçalp
Rahşan Bürge
Zehra Turan
Canan Deveci
İsmail Beyaz
 
 
To see other news please

click here.