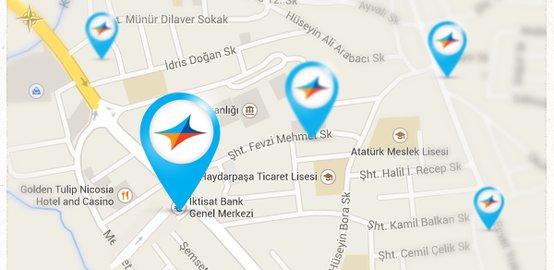 SMART ATM LOCATIONS KEEP ON GROWING...
Smart ATM Banking continues to increase its service locations. With our developed Smart ATM Banking you can carry out all your banking transactions. Our Smart ATM's are now in service at,
Erulku Supermarket,
Merit Park Hotel and
20 Temmuz roundabout.
With the rich transaction set of the ATM's, Smart ATM Banking provides 24 hour service. Some of the transactions you can make via Smart ATM Banking include; cash withdrawal from account, credit card cash advance, loan payment, credit card payment, invoice payments and foreign exchange transactions.
You can make your credit card payment or a cash deposit into your account even if you do not have a card with you.
With the 3 new service points, Smart ATM Banking has reached 21 service points across Northern Cyprus. As well as Iktisatbank customers, customers with cards from other banks can withdraw cash or can check their account balances.
To see the addresses of our Smart ATM's on the map and to learn more about the transactions you can make please
click here.
To see other news please

click here.