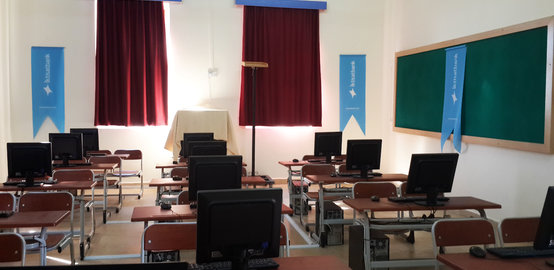 SUPPORT TO EDUCATION FROM IKTISATBANK...
İktisatbank consigned computer laboratory fully equipped to the two Primary Schools in the İskele and Yedidalga points with Education Minister Dr. Mustafa Arabacıoğlu.
 İktisatbank continious to be exemple with project of social recponsibility. With approach of İktisat Academy and Education is Our Future, İktisatbank started to provide to have computer laboratory to schools in the distance which has not.
Both of the loboratories have been consigned to the students of Şehit İlker Karter Primary School and Yedidalga Primary School with organization which Education Minister Dr. Mustafa Arabacıoğlu joint to. Volunteer staff from İktisatbank helped to the Schools for have monitor, desktop, printer, forniture, air condition and similar equipment. Education Minister Dr. Mustafa Arabacıoğlu has been joined to the organization with Member of İskele Parliament Hüseyin Avkıran Alanlı, Governor of İskele Ahmet Cenk Musaoğulları, Undersecretary of Education Minister Sevgi Değgin, Education Minister's Private Secretary Fatoş Anıl Öder, Manager of the Primary Agency Ali Nizam, General Manager of İktisatbank Ahmet Melih Karavelioğlu, Deputy General Manager Olgun Önal, Tayfun Balıkçı and Manager of Information Technology Yasin Çiftçi.
To see other news please

click here.