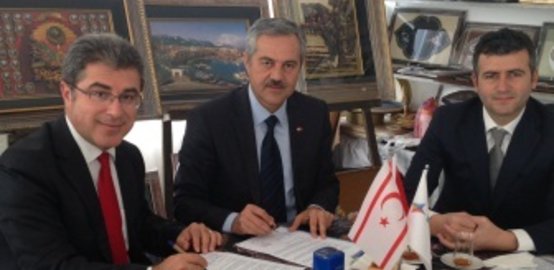 IN CO-OPERATION WITH THE MUNICIPALITY OF TATLISU IKTISATBANK BRINGS A SMILE TO THE FACES OF HOUSEWIVES, AGRICULTURAL AND FARM OWNERS OF THE AREA...
A Micro loan protocol has been signed between Tatlısu Municipality and Iktisatbank to offer business development loans with special terms and conditions to the housewives,  agricultural and farm owners of the area. 
Tatlısu Municipality Mayor Ahmet Hayri Orçan and Iktisatbank General Manager Ahmet Melih Karavelioğlu have signed the cooperation protocol agreement in relation to the crafts made by the housewives of Tatlısu that belong to the Public Education and Sports centre of the area. The Mayor of Tatlısu Municipality Ahmet Hayri Orçan stated his satisfaction with the collaboration from Iktisatbank on this type of project and said that it is a good example of the how joint collaboration is good for the economy. Iktisatbank General Manager evaluated the scope of social responsibility that Iktisatbank has with this type of project and expressed his faith in the development of the national economy with this type of project.
The first and only Micro Loan with zero interest in the TRNC has been available to housewives of the Tatlısu area for the past 4 years enabling them to develop their products and crafts at home so that they are able to contribute to the home finances. 
The business development loan has been offered within the Tatlısu Municipality for the past 3 years as a pilot project and this year it is planned to be offered island wide to agricultural and farm owners to develop their business and enabling cash flow until the harvest season with grace period and low interest rates.