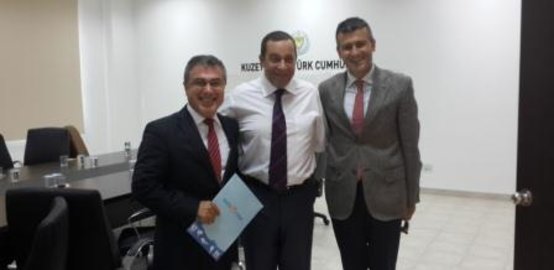 IKTISATBANK STARTED PROVIDING GOVERNMENT
SUBSIDIZED

SMALL BUSINESS LOANS ON THE DAY OF SIGNING THE PROTOCOL...

Iktisatbank, the bank who has provided the most government subsidized loans within the TRNC on Thursday the 14th of August, together with the Deputy Prime Minister, and Minister for Economy, Tourism, Culture and Sport Mr Serdar Denktaş provided the 2014 Small Business and Service sector government subsidized loans protocol and the first loan application has been processed by Iktisatbank.

Under the Grant Assistance protocol from Turkey and as an addition to the corporate sector projects 'The Small Business and Service Sector grant assisted loan programme' is available, the loan will provide  50% of the interest being paid by the government.

Upon starting the provision of these loans, Iktisatbank General Manager Mr Ahmet Karavelioğlu explained, they were more than happy to sign the protocol which will assist small and medium sized businesses with meeting their short term financial needs, because during the recent global financial crisis these types of businesses are the ones who have seen the most downturn. Mr Karavelioğlu stated that since 2011 Iktisatbank has been the bank that has provided the most loans of this nature, as a bank we strive to provide assistance to the local economy and as such we try to participate in all programmes that will contribute to the country's growth, to this end we are continuing to provide loans under the Small and Medium Enterprise grant protocol as well as the unfinished hotel protocol.

For Detailed Information About Goverment Supported Small Business Loans please click here.