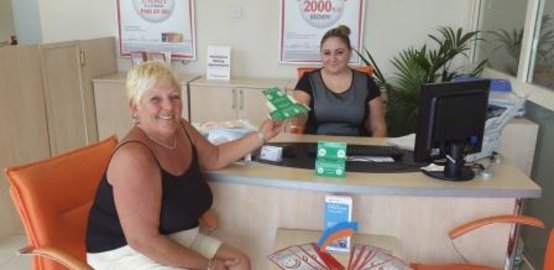 IKTISATBANK SUPPORTS THE 'EVERY KURUŞ COUNTS' TULIPS CAMPAIGN...
Iktisatbank are once again pleased to announce their support for Tulips Cancer Charity and the 'Every Kuruş Counts' campaign by providing a distribution channel for the donation boxes. Donation boxes will be available from any of the Multicultural Banking Branches in the Kyrenia area so when you are next passing any of our 5 branches, Alsancak, Karaoğlanoğlu, Kyrenia, Karakum and Mete Adanır Caddesi, pop in and pick up your donation box.
The aim of the project is to encourage people to collate their change in one place and then bring the change and deposit the funds into the Tulips Cancer Charity account listed on the reverse of the box.
Iktisatbank Assistant General Manager, Mr. Olgun Onal, "Once again I am delighted that Iktisatbank are able to help this very worthy charity to raise funds for such a good cause. We wanted to assist with the 'Every Kuruş Counts' appeal so to be able to provide the donation boxes to our customers from our Multicultural Banking branches in Kyrenia seemed the ideal way to take part, we hope not only to raise a good number of donations to this great cause but also to raise awareness of a disease that affect so many of our community. Tulips do a fantastic job and it is great that we can assist in such a way".