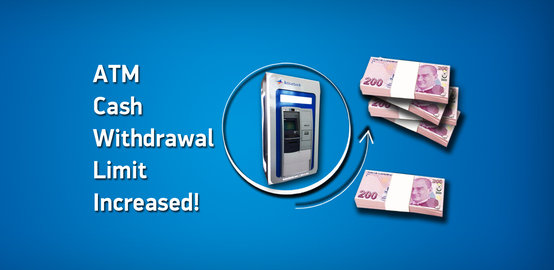 ATM BANKING'S DAILY CASH WITHDRAWAL LIMIT HAS INCREASED...
We increased cash withdrawal limits to 1.500 TL for Iktisatbank customers  at ATM bankings. 
Iktisatbank has a wide range of  ATM bankings all around Turkish Republic of Northern Cyprus. Iktısatbank ATM bankins which has a wide range of transaction set including ; SmartCard credit card payments, cash deposit, money transfer, foreign exchange and buy/sell gold. From now on daily cash withdrawal limits has been increased from 1000 TL to 1500 TL.

Most of the ATM Bankings have cash deposit features. You can make your banking transactions with SmartCard Credit Card and Smart Debit Card, also you can make your cash deposit and credit card payment transactions without a card by using Cardless Transaction Feature of ATM Bankings.