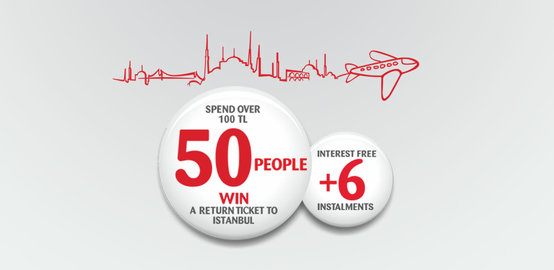 WIN A RETURN TICKET TO ISTANBUL WITH SmartCard...
SmartCard are giving away return tickets to Istanbul to 50 people when they spend over 100TL with SmartCard. Using your SmartCard for shopping up until 5th January 2015 and be one of our lucky customers to win a return ticket to Istanbul.
FEEL LUCKY?
Get a chance to receive free return tickets to Istanbul. With every 100 TL you spend with your SmartCard, you will receive a chance to win a return ticket.
For every 100 TL or more you spend with your SmartCard when you shop between now and 5th January 2015, you get a chance to win one of 50 return tickets to Istanbul. Each 100 TL or more you spend will be entered as a ticket to the prize draw.
FEEL LIKE PAYING LATER?
Should you wish not to pay for a chosen purchase the coming month in full, you can ask your retailer at the time of purchase to give you an instalment option. The instalment are interest and commission free. For any single number instalment chosen, your SmartCard will give you SIX additional bonus instalments. So for example, if you choose to pay in 3 instalments, you will get to pay in a total of 9 instalments at no extra charge. Should you NOT want 6 free additional instalments, then simply choose an even number of instalments, like 4 for example, and you will receive only 4 instalments.
MISSING SmartPoints?
For any customers who have not had their previous SmartPoints carried on to their current card, this is being done in your current statement. Remember that you can spend your points on the spot as cash when you tell your retailer, 1 point in return for 1 TL, or you if you have a minimum of 44 points, you can choose to buy a plane ticket at participating travel agents, and we will multiply your points you use for that purchase by 3 so your points get you even further. Please remember, you can see your current point status also on your sales slip when you use a SmartPOS.
Last Call For İstanbul from SmartCard Campaign Details.
For very 100TL you spend using your SmartCard you will be entered to the prize draw.
The draw will take place in front of the notary public, 50 lucky winners will be drawn at random and notified accordingly, the flight tickets must be used by 31st March 2015.
Taking into account the quota and the occupancy rates of the aircraft, the winner should decide on their travel dates early to avoid disappointment.
Only 1 return ticket per SmartCard holder can be won.
To take advantage of the campaign the SmartCard must not be cancelled. If the card has been cancelled then the ticket will be null and void.
Employees and immediate relations of the employees of Iktisat Financial Services Group are not permitted to take part in the campaign.
The draw will take place in front of the notary public on the 7th of January and the winners will be announced and published on our website iktisatbank.com.
In addition, SmartCard New Year Campaign continues with deferred instalments (3, 5, 7, 9, 11, 13, 15 and 17 monthly payments to choose from) take advantage of the extended interest free instalments.
Iktisatbank reserves the right to amend the terms and conditions of the campaign at any time.
For full details please visit our branches or call our Smart Telephone Banking on 444 4 444.